~General Information~
Name: Shizuka Banit.
Nickname/Alias: Shizu, Suki, Shizuka.
Age: 20
Gender: Female.
Weight: about 90.
Height: 5'3
Appearance:Shizuka stands at a fair height of four feet, eleven inches. Her complexion is smooth skin with a creamy porcelain tint with no imperfections whatsoever. She has platinum blond hair color that reaches her lower back when in her normal hairstyle. She normally keeps them in two twin tails, tied up by semi-dark brown ribbons, a light ahoge lifted at the front. She has greenish blue teal eyes that that go perfect with her skin complexion and hair color. She carries around a calm face, but not somber or sullen, just serene. She has a very delicate looking figure and is largely-chested. She became accustomed to dressing well, which meant always keeping her school uniform well-kept. But with a wild side to herself, she wears VERY short dresses, and skirts. Along with tight shirts.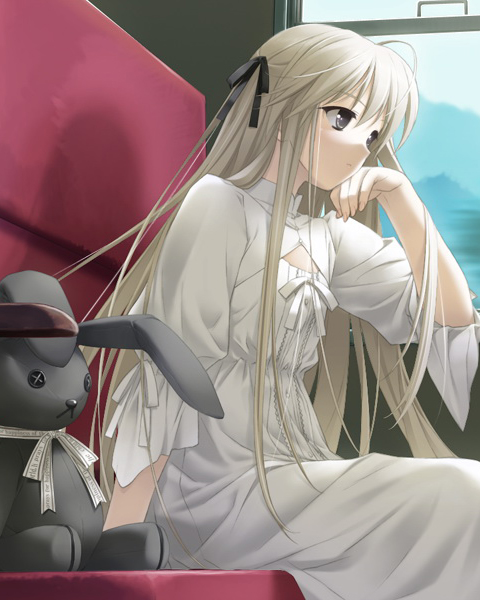 Personality: Shizuka is the quiet type, but will speak up when it's necessary. She can have quite the temper as well if someone begins poking fun at her friends or her siblings, but never immediately resorting to violence. In the circumstances of school work, Shizuka is smart, but also narcoleptic, which leads to teachers leaving her behind. Although she gets left behind, she takes time on her own to stay at the top of her class. In a fight, she pretty much draws a blank. If a friend is in danger, she'll do anything to get them out of the line of fire and make sure they meet no contact with it; with that of course, she'd never give her life up so easily. She'd put up the best fight she can to the very end. Due to lack of social skills and poor health, she tends to seclude herself from anyone she isn't fond of.
Catch Phrase: ----
~Rank/Village Information~
Classification: Just a normal, everyday person.
Village: Takigakure
Letter Rank: None.
~History/Rp Sample~
History: Shizuka was born in a quaint town in the North, where the cold resides year round. At the mere age of one, she was taught the ways of being a maid and belonged to a very prestigious, haughty, and noble family. She never met her birth parents and her adoptive parents, which she was forced to call "Mistress" and "My Lord", were anything but parental. If she ever got injured or sick, they would simply leave her in a room until she was better. The other butlers and maids pitied her for being so young and having to work such a job, but she didn't care. She would wait until she was of age, then run away. That was her plan. The nobles weren't human, they were monstrous demons that tossed her about like the worthless rag doll they told her she was. She waited on them hand and foot, not speaking unless being told to, not moving unless being told to, etc. One night, she got up, and ran for her life, leaving them behind.
Rp Sample: Shizuka walked down the road, as she hear someone yelling. She stopped dead in her tracks, looking in a dark ally way. She seen a lot of people. She seemed to want to go in, and see what was wrong, but didn't at the same time. She was just a weak human, and wouldn't be able to help if someone was benign attacked. Soon, she felt the courage inside of her, to walk down the ally way slowly, looking around it. Her heels clicking at the bottom of the ground. With her being so tiny, no one could really hear her. But the heels of her shoes gave her away. A tiny clicking sound came through the ally.